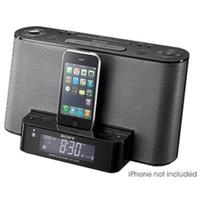 List Price:
$99.99
You Save:
(42%) $42.00
Final Price:
$57.99
Shipping:
FREE
Buy Sony iPod/iPhone Speaker Dock/Clock radio with iPod/iPhone 3G compatibility.
You can easily set A-B alarm, in addition to a 2-5-7 day alarm.
You also have a LCD Brightness Control. This system also offers Mega Bass and Mega Xpand features. This dual alarm offers 10 minute interval snooze up to one hour.